Lost in France… as usual
Having had a very nice breakfast & a sort of chat with a French couple also staying at the Brewery, ('though their English was not as good as my French!) we set off for a tour around the loop of the River Seine that Canteleu sits in as the weather wasn't particularly good, so we didn't fancy walking anywhere.
Having taken a few "touristy" photos, visited a car boot sale and driven down a dead end road, we decided to continue our journey. Along the way, Glyn spotted somewhere that we'd looked for when we were out this way before: The Château de Robert-le-Diable; so we went for another look. I am sure that it will not surprise you, dear reader, that we failed miserably to find it! Having just checked it's location on Google Maps, it doesn't surprise me that we couldn't find it as it is in a totally different place to where we were looking! It's a surprise, at times, that we're even able to find France!!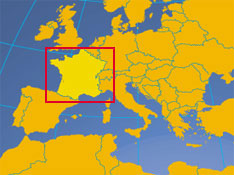 So, having given up, we decided to head off to our next stop at Honfleur.
Lunch break
For lunch, we stopped at Pont Audemer & once the bells had stopped ringing in the local church (it appeared that a Christening had happened) & we
could hear ourselves speak, we decided to eat at a small restaurant opposite.
So, back onto the road, along the estuary for a view of the
Pont de Normandie before trying to find our way to "The Fisherman's Cottage" our resting place for the next two nights. I keep thinking that I should drive over this bridge at least once, but with it being almost 4 times the height of the QE2 bridge in London which I don't enjoy going over, I suspect that this may well be an unfulfilled ambition!
Honfleur
Honfleur is a beautiful medieval town that Glyn & I have driven through on a couple of occasions previously & decided that this year we would stay for two nights to fully explore what it had to offer.
We arrived late in the afternoon, the plan being that we would drop off our bags at the "Fisherman's Cottage" that we'd booked & then have plenty of time to have a look round, eat & drink which we would repeat the following day.
Now, back in Medieval days, there weren't many cars around, so the streets are not that wide and, being a touristy sort of place, there's always people wandering across the road… not only that, but the tall buildings & narrow streets played havoc with my SatNav, so we had to resort to a printed copy… amazingly, especially based on past experience, we went directly to the cottage.
I'd found the place on the internet & it sounded idyllic…
Recently converted former fisherman's cottage situated in the historic port area of medieval Honfleur. This typical XIXth century house is an ideal base to explore the preserved medieval town of Honfleur or to simply unwind by walking along the river into the Normand countryside. Ideally situated by the Sainte Catherine's district, a short walk leads to the restaurants, bistros and cafes of the attractive port area.
Renovated and decorated with taste, the cottage has retained it's character and offers a nice view over gardens. On the first floor, there is a well equipped kitchen, dining and living area. Sleeping up to four comfortably, there are two individual bedrooms on the second floor. Ideal for a small family group, this quaint cottage offers comfortable accommodation in a sought after holiday location.
Beware : 2nd floor, steep stairs, not adapted for physically challenged individuals.
However, it was not only somewhat smaller than we'd expected, the "steep stairs, not adapted for physically
challenged individuals" were also not adapted for "larger than your average medeival person's girth", either!! And the view over the gardens… well, yes they were there, but it's someone else's gardens that you look over!
Given the price that we'd paid (more than most of the hotels that we'd stayed at where we had Bed & Breakfast!), it was a little disappointing to say the least.
However, undeterred, we set off to explore the town… and that's when we realised that overpricing appears to be a tradition in Honfleur! I thought that "touristy" places in the UK knw how to take the "tourist dollar", but we're just amateurs compared to the traders in this town… over £3.50 for, in effect, half a pint of beer (and fizzy at that) just isn't funny! Unfortunately, it wasn't until the following day that we found the local supermarket to stock up on cheap food, beer & cider
For our evening meal, we had "Crêpes" in a small cidre-bar which was very nice, 'though again, expensive